Eye Examinations
A regular eye exam is the best way to protect your eyesight—and an easy precaution to take. It is particularly important if you notice a change in your vision, if your eye is injured in anyway, or if you have a family history of eye disease.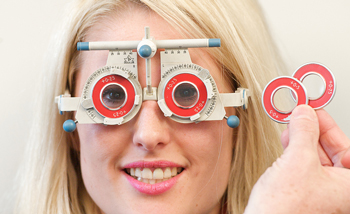 What to Expect at an Eye Exam
At Williams Optometrists, we feel it is important to take time to conduct a thorough examination. First, the Optometrist will review your personal and family health history – checking for special risk factors like eye disease, diabetes, high blood pressure or poor vision. Then, they'll conduct some or all of these tests tailored to your specific requirements to check for:
Vision

- The Optometrist will check for nearsightedness (myopia), farsightedness (hyperopia), and astigmatism. While you look at an eye chart, the Optometrist will measure your vision precisely, and, if necessary, determine a prescription for corrective lenses.

Coordination of eye muscles

- The Optometrist will move a light in a set pattern to test your ability to see sharply and clearly at near and far distances, and to use both eyes together.

Side (peripheral) vision

- The Optometrist will move an object at the edge of your field of vision to make sure you can see it and may recommend booking for a Visual Fields test. We offer an advanced Visual Fields Assessment which allows the Optometrist a more detailed review, and has a small fee of £35 or you can opt for the basic screening at no additional charge.

Pupil response to light

- The Optometrist will shine a light in your eye and watch the pupil's reaction.

Colour testing

- The Optometrist will ask you to describe figures in a series of illustrations made up of numerous coloured dots or circles. This tests your ability to differentiate colours.

Eyelid health and function

- The Optometrist will examine your eyelid, inside and out.

The interior and back of the eye

- The Optometrist will use a special instrument called an ophthalmoscope to see through to the retina and optic nerve at the back of the eye. Some people have very small pupils and may require a drop to dilate their eyes so that the Optometrist can get a good field of view. Your Optometrist will advise you if this is necessary.

Measurement of fluid pressure

- The Optometrist will use an instrument called a tonometer. This tests the pressure inside the eyeball, an early indicator of Glaucoma and other diseases.
---
Quality eye care and friendly service
We are committed to offering our patients time, time for quality eye care and time for friendly service. As an independent practice we are proud of our reputation and are not driven by shareholder demands.
Our interests include:
ADD/ ADHD
Amblyopia
Autism
Brain Injury
Cataracts
Contact Lenses
Cosmetic Contact Lenses
Diabetic Retinal Screening
Double Vision
Dry Eye
Eye Examinations
Glaucoma
Head Injury
Keratoconus
Laser Eye Surgery – Advice centre
Low Vision Assessments/ Low Vision Aids (LVA)
Macular Degeneration (AMD/ ARMD)